Aplicación del método Electre III en la clasificación de clústeres de artesanías
Fabricio Molica de Mendonça

Universidade Federal de São João del Rei - Minas Gerais, Brasil.

Carlos Eduardo Durange De Carvalho Infante

Universidade Federal do Rio de Janeiro. Rio de Janeiro, Brasil.

Rogerio De Aragão Bastos do Valle

Universidade Federal do Rio de Janeiro. Rio de Janeiro, Brasil.
Resumen
En el presente artículo se muestran los resultados del estudio que busca aplicar el método Electre III para clasificar cuatro aglomerados productivos de micro y pequeñas empresas, localizados en el Estado de Minas Gerais (Brasil), en relación con la capacidad de desarrollar estrategias de supervivencia, por medio de relaciones con proveedores, clientes y distribuidores, competidores y con instituciones públicas y privadas de apoyo. El efecto conjunto de esas variables es lo que define la capacidad que ellas poseen de desarrollar estrategias competitivas. Los resultados permitirán concluir que el agrupamiento de productores de artefactos de desechos de madera es lo que está más articulado en relación con el conjunto de factores de éxito de un aglomerado, seguido por los aglomerados de productos en telares y hierros, que se presentan indiferentes entre sí.
Palabras clave:
Evaluación de desempeño, Análisis de robustez, Electre III, agrupamiento de MPE.
Referencias
[1] Abreu, J. C. de. Estratégia e Oportunidades Locais: um estudo sobre rede dinâmica em aglomerados de empreendedores de base artesanal. Tese Doutorado, COPPE/UFRJ. Río de Janeiro. 2002.

[2] Al-Kloub, B.; Al-Shemmeri, T. & Pearman, A. The role of weights in multi-criteria decision aid, and the ranking of water projects in Jordan. European Journal of Operational Research, 99, 278-288. 1997.

[3] Almeida, A. T.; Costa, A. P. C. S. Aplicações com métodos multicritério de apoio à decisão. Recife: Universitária da UFPE, Brasil. 2003.

[4] Almeida-Dias. J.; Figueira. J. R.; Roy, B. Electre TRIC: A multiple criteria sorting method based on characteristic reference actions. European Journal of Operational Research, 204, 565-580. 2010.

[5] Brito, A. J; Almeida. A. T.; Mota, C. M. M. A multicriteria model for risk sorting of natural gas pipelines based on ELECTRE TRI integrating Utility Theory. European Journal of Operational Research, 200, 812-821. 2010.

[6] Casaroto Filho, N. & Pires, L. H. Redes de pequenas e médias empresas e desenvolvimento local: estratégias para a conquista da competitividade global com base na experiência italiana. 2. ed. São Paulo: Atlas. 2001.

[7] Costa, H. G.; Motta, S. S.; Gutierrez, R. H. Avaliação da produção docente: abordagem multicritério pelo método ELECTRE II. Anais do XXVI ENEGEP - Fortaleza, CE, Brasil. 2006.

[8] Edwards, W. How to use multiattribute utility measurement for social decision making. IEEE Transactions on Systems, Man and Cybernetics, 7, 326-340. 1997.

[9] Figueira, J.; Greco, S.; Ehrgott, M. et al. Multiple Criteria Decision Analysis: State of the Art Surveys. Boston: Springer, 2005.

[10] Figueira. J. R.; Almeida-Dias. J.; Matias. S.; Roy. B.; Carvalho. M. J.; Plancha, C. E. Electre Tri-C, a multiple criteria decision aiding sorting model applied to assisted reproduction. International Journal of Medical Informatics, 80, 265-273. 2005.

[11] Freitas, A. L. P., Rubim, A. V., Manhães, N. R. C. Emprego do método ELECTRE III na seleção de equipamentos. Anais do XXIV ENEGEP, Florianópolis, Santa Catarina, Brasil. 2004.

[12] Georgopoulou, E.; Lalas, D. & Papagiannakis, L. A Multicriteria Decision Aids Approach for Energy Planning Problems: The case of Renewable Energy option. European Journal of Operational Research, 103, 38-54. 1997.

[13] Giannoulis. C.; Ishizaka. A. A Web-based decision support system with ELECTRE III for a personalized ranking of British universities. Decision Support Systems, 48, 488-197. 2010.

[14] Gomes, l. F. A. M., Gomes, C. F. S., Almeida, A. T. Tomada de decisão gerencial: enfoque multicritério. Ed. Atlas, São Paulo – SP, 264 p., 2002.

[15] Hokkanen, J. & Salminen, P. Choosing a solid waste management system using multi criteria decision analysis. European Journal of Operational Research, 98, 19-36. 1997.

[16] Hugonnard, J. & Roy, B. Ranking of suburban line extension projects for the Paris metro system by multicriteria method. Transportation Research, 16, 301-331.1984.

[17] Júnior, O. H. A Lógica difusa: aspectos práticos e aplicações. Rio de Janeiro: Interciência. 1999.

[18] Leyva, L. J. C. A genetic algorithm application for the individual and group multicriteria decision making: PhD Thesis resume. Computación y Sistemas, 4, 183-188. 2000.

[19] Liang, G.; Wang, M.. A Fuzzy Multi-Criteria Decision- Making Method for Facility Site Selection. International Journal of Production Research, Vol. 29, No. 11, pp. 2313-2330. 1991.

[20] Mendonça, F. M. Formação, desenvolvimento e estruturação de Arranjos Produtivos Locais em Minas Gerais. São Paulo: Blucher. 2010.

[21] Moreira, R. A. Análise multicritério dos projetos do SEBRAE/RJ através do Eletre IV. Dissertação de mestrado, Rio de Janeiro: IBMEC. 2007.

[22] Motta, F. G. Fatores condicionantes na adoção de métodos de custeio em pequenas empresas do setor metal-mecânico de São Carlos – SP. Dissertação (Mestrado). Universidade Estadual de São Paulo, São Carlos, 2000.

[23] Pereira, C. G. Análise de crédito bancário: um sistema especialista com técnicas difusas para os limites da agência. Dissertação de Mestrado, Santa Catarina: Universidade Federal de Santa Catarina. 1995.

[24] Roger, M. & Bruen, M. Choosing realistic values of indifference, preference and veto thresholds for use with environment criteria with ELECTRE. European Journal of Operational Research, 107, 542-551. 1998.

[25] Roger, M.; Bruen, M. & Maystre, L. Electre and decision support. Kluwer. Academic Publishers. 2000.

[26] Roy, B. & Bouyssou, D. Aide multicritère à la décision: Méthodes et cas. Paris, Economica, mai. 1993.

[27] Roy, B. The outranking approach and the foundations of ELECTRE methods. In: Reading in Multiple Criteria Decision Aid [edited by C.A. Bana e Costa], Springer Verlag, Berlin, 155-183. 1990.

[28] Roy, B. Multicriteria Methodology for Decision Aiding. Kluwer. 1996.

[29] Roy, B. ELECTRE III: Un alghoritme de methode de classements fonde sur une representation floue des préférences en presence de critères multiples. Cahieres de CERO, v. 20, n. 1, pp. 3-24. 1978.

[30] Shanian, A., Savadogo, O. ELECTRE I : Decision Support Model for Material Selection of Bipolar Plates for Polymer Electrolyte Fuel Cells Applications. Journal of New Materials for Electrochemical Systems, 9(3), pp. 191-199. 2006.

[31] Shaw, I. S. & Simões, M. G. Controle e modelagem fuzzy. São Paulo: Fapesp. 2001.

[32] Shimizu, T. Decisão nas organizações. Ed. Atlas 2a. Ed. São Paulo – SP, 419 p, 2006.

[33] Vincke, P. H. Multicriteria Decision Aid. Wiley, Chichester. 1992.

[34] Zadeh, L. The concept of a linguistic variable and its applications to approximate reasoning. Information Sciences, 1975.
Descargas
La descarga de datos todavía no está disponible.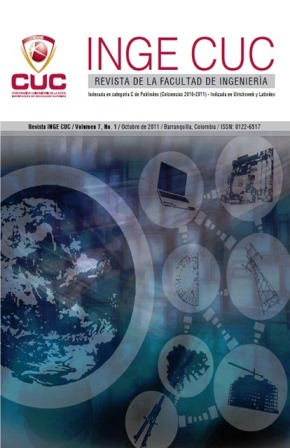 Cómo citar
Molica de Mendonça, F., Durange De Carvalho Infante, C., & Bastos do Valle, R. (2011). Aplicación del método Electre III en la clasificación de clústeres de artesanías. INGE CUC, 7(1), 97-112. Recuperado a partir de https://revistascientificas.cuc.edu.co/ingecuc/article/view/280
Los artículos publicados son de exclusiva responsabilidad de sus autores y no reflejan necesariamente las opiniones del comité editorial.
La Revista INGE CUC respeta los derechos morales de sus autores, los cuales ceden al comité editorial los derechos patrimoniales del material publicado. A su vez, los autores informan que el presente trabajo es inédito y no ha sido publicado anteriormente.
Todos los artículos están bajo una Licencia Creative Commons Atribución-NoComercial-SinDerivadas 4.0 Internacional.